Thiruvannamalai - The Shades of Tiruvannamalai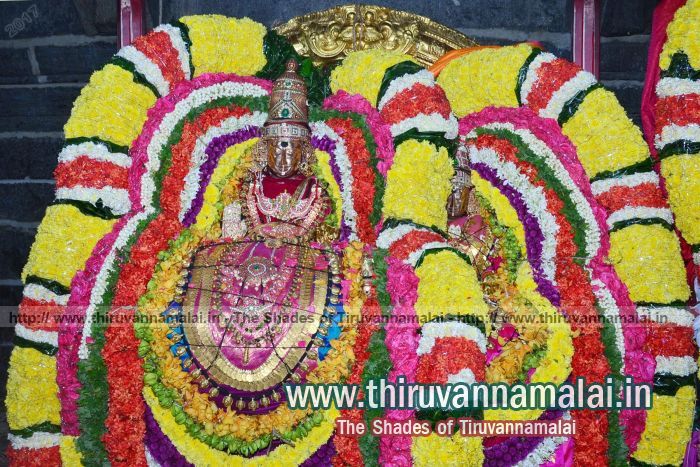 Thiruvannamalai is a world famous temple town in Tamilnadu which is synonym to deepam(fire). Here Shiva (Annamalaiyar) is worshipped in the form of fire.
How to reach Tiruvannamalai
This temple city is located about 194 km from Chennai or 86 km from Vellore by road. read more…
Arunachaleswarar Temple - Thiruvannamalai
This temple is built around 750 A.D. period (details As per Sculptures) The very biggest temple in India dedicated to Lord Arunachaleswarar (Shiva).This Shiva – Parvathi Arunachaleswarar temple has a 66 metre high gopuram that comprises of 13 storeys or tiers.Here Shiva is known as Annamalaiyar in the form of Lingam and Parvathi Devi known as Apitakuchambal. This term Annamalaiyar is derived from the name of the hills Annamalai that means an inaccessible mountain. read more…
Thiruvannamalai Girivalam 2019
Lord Arunachaleswarar temple has the biggest walking path around the Annamalai hill. Devotees are expected to go girivalam around the hill barefooted and get the darshan of all the Eight lingams to get the full benefit and the blessings of the lord.  Tiruvannamalai it is great place to go for girivalam during every full moon day of a month & Also during the Annual Karthigai deepam day. read more…
Tiruvannamalai Maha Shivarathri 2019
In Tiruvannamalai  Arunachaleswarar Temple Maha Shivarathri Festival is celebrated very grandly every year. read more…
Shivaratri Festival Night Ligothbavar Special Abishekam Exclusive Video - Tiruvannamalai Arunachaleswarar Temple 
February 23,2019 - Panniru Thirumurai Festival Started Grandly in Thiruvannamalai Arunachaleswarar Temple Auditorium.Music Director Karthik Raja in the above pic and Below Video Panniru Thirumurai Festival 2019 Invitation
February 22,2019 - Thanga Ratham ( Golden Chariot ) Trailrun in Tiruvannamalai Arunachaleswarar Temple Today Morning after Renovation Work.
அருள்மிகு அருணாசலேசுவர்ர் திருக்கோயில் திருவண்ணாமலை மாசி மகம் பள்ளிக்கொண்டாப்பட்டு கௌதமி நதியில் தனது தந்தை வள்ளால மகாராஜவுக்கு திதி 19.2.19 கொடுத்த பின் 20.2.19 இரவு 8.00 மணியளவில் திருக்கோயில் இரண்டாம் பிரகாரத்தில் பெரிய நாயகர் சோமஸ்கந்தர் அண்ணாமலையார் சிறப்பு...