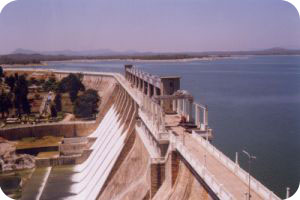 This magnificent Sathanur dam was built in the year 1958. It is located near the Chennakeshava hills in Chengam district. One can reach from Lord Arunachala temple by road which takes about half an hour drive by car. Sathanur dam is built across the Pennaiyar river that originates at the Chennakesava hills. A large area of agriculture lands are benefited through water stored in this dam. Roughly it irrigates around 8000 hectares of lands. The total storage capacity of this dam is 7321 million cubic feet when the water stands at the full level of 119 feet. The other added attraction of this Sathanur dam is its picturesque location. This nature's beauty draws millions of tourists every year from all over the world. And people who visit Tiruvannamalai never fail to visit this dam. There is also a beautiful garden and a children's park as part of this dam. A small zoo is maintained here near this dam with some wildlife varieties.
Panguni Uthiram ThiruKalyanam Festival 2019 March 21st,2019 - Panguni Uthiram Thirukalyanam in Tiruvannamalai Arunachaleswarar Temple
Tiruvannamalai Arunachaleswarar Temple Elephant Rukku 1st Anniversary Tribute To Elephant Rukku On March 22nd,2018
Tiruvannamalai - 18.3.2019 - Varuna Japam in Tiruvannamalai Arunachaleswarar Temple Brahma Theertham.
Tiruvannamalai Panguni Uthiram Thirukalyana Invitation - 2019
Shivaratri Festival Night Ligothbavar Special Abishekam Exclusive Video - Tiruvannamalai Arunachaleswarar Temple